The 2021 Subaru Love Promise Community Commitment Award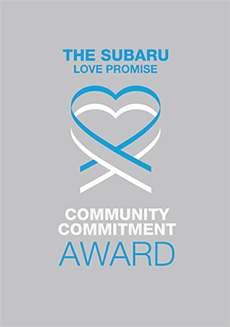 We've been nationally recognized for our dedication to our community and the Subaru Love Promise.
We're honored to receive the 2021 Subaru Love Promise Community Commitment Award. This award nationally recognizes Subaru retailers who are making the world a better place while demonstrating an outstanding commitment to supporting passions and causes in local communities. These efforts are focused in important areas such as the environment, community, health, education, and pets.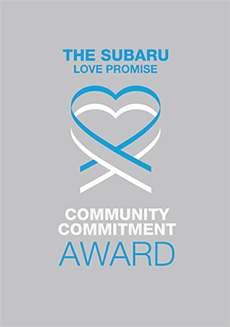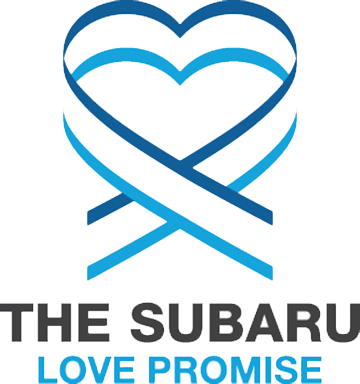 What is the Subaru Love Promise?
Subaru and our retailers believe in making the world a better place and the Subaru Love Promise is our vision of respecting all people. This is our commitment to show love and respect to our customers and to work to make a positive impact in the world.
How is Bob Rohrman Subaru dedicated locally to the Love Promise?
Bob Rohrman Subaru's Love Promise Can Be Seen In Various Partnerships With Local Charities And Non-Profits. We're Grateful For The Opportunity, Not Only To Be A Part Of Our Community, But To Serve It As Well.
Loving Heart Animal Shelter , Almost Home Humane Society
Lafayette School Corporation
Boys And Girls Club Of Montgomery County , YWCA Of Greater Lafayette, Local Meals On Wheels, Tippecanoe County 4-H Fair, CMS Finish Line Festival
Juvenile Diabetes Research Foundation, Make-A-Wish Foundation
Love Promise Stories from Bob Rohrman Subaru
Subaru and Bob Rohrman Subaru believe in making a positive impact on the communities in which we live and work. We uphold that belief through our Love Promise Community Commitment. Every month, we select inspiring stories from customers and partners from around our area who strive to support our collective commitment and feature them here
Subaru Spreads Love in Greater Lafayette - Amanda E
The team at Rohrman Subaru reached out to support the food bank during COVID in spring of 2020. When the Rohrman Subaru team learned about the need for volunteers at the food bank, they were eager to help. "At the first visit, we presented funds for another 21,000 meals," said Brad Belaire, General Manager of Rohrman Subaru. "We learned and saw first-hand both the need that's being met in our communities by Food Finders, as well as how much work goes into getting the food into the hands of people in 16 counties." After that first visit, the Rohrman team decided the right thing for them to do was to make a commitment to continue giving their time and funds on a monthly basis. "Subaru brought great, positive energy when they came to volunteer," said Catherine MacLeod, Director of Volunteer Engagement at Food Finders. "They were energetic in helping us complete the task in front of us and did so with an attitude of service toward the people in need. We are so glad to have them here on a regular basis!" The team at Rohrman Subaru started a program that allows us to donate 60 meals per vehicle they sell." said Belaire. "It is our responsibility to help our community. We believe that it is the right time to work with Food Finders to live up to the Subaru Love Promise for our community." Subaru has pledged to volunteer monthly at Food Finders through 2021. They are a reliable and enthusiastic group of volunteers who are looking for more ways they can help.
---
King of Mardi Gras for Classroom Grants - Janie N
For the past five years Rohrman Subaru has been the King of Mardi Gras sponsor for Lafayette Breakfast Optimist Club's annual Fat Tuesday Fundraiser, which is held annually on Mardi Gras night. All of the proceeds and sponsorships from the evening of carnival-like festivities go to our Teacher Grant Program, which awards funds to local classroom teachers for supplies and projects at a time when educational funding continues to be reduced. A program like this will be even more crucial in the coming year. Thanks to the generous support of Rohrman Subaru, we have been able to provide many more grants. Many of the grants provide long term educational benefits and thousands of local students have been impacted by the program. The grants are awarded in the fall and the winners share their outcome with the club in June. Of course, this year we had to do things a little differently. The teachers did their presentations on Zoom, also showing off the new skills they had had to learn when going to online learning. We are always amazed at the creativity and ingenuity of these classroom teachers, but this year their ability to adjust and adapt their grants to the situation with the virus was very impressive. One grant was for several sewing machines for a FACS class for a teacher who wanted to reinstate this basic skill back into her curriculum. When the school closed, she taught her students to sew masks at home, which they then gave to the community. A kindergarten teacher requested to divert some of her funds to putting together "goodie bags" for her kids containing basic school supplies like crayons and paper as many of her students came from lower income families who might not have these supplies at home. She also created a small cardboard cutout of herself for each kit so that the kids would feel that she was with them. The scope of the grants is wide. One grant provided reading books to a special needs class that featured characters who had the same disabilities as they did. Over the years, the grants have covered class sets of instruments, 3-D printers, field trips to cultural events and museums that the students might not otherwise be able to attend, provide enrichment materials for students who need additional help to master a skill, to name only a few. The following links show a portion of the teachers doing their Zoom presentations for the group: https://youtu.be/MSiH8F2Im6I https://youtu.be/JpMHoziJFG8.https://www.youtube.com/watch?v=PJGW5nwDfEQ&feature=youtu.be The Lafayette Breakfast Optimist Club is a small active service group of businessmen and professionals, many retired, who focus on helping youth in the community. They like to do hands-on projects and have financed and built playgrounds, baseball fields, gaga pits, climbing walls, storage buildings and more for local organizations. They partnered with SIA on the Subaru South Tipp Park, which opened in 2014. They are currently working on financing for the rehabbing the ADA-compliant Murdock Park Nature Trail, which they originally built over 25 years ago. They work with and support the local Boys and Girls Club, Big Brothers Big Sisters, Junior Achievement, local youth sports programs, Special Olympics, YWCA Domestic Abuse Program, YMCA, Food Finders Backpack Program, to name a few. (These projects are financed through other fundraisers/donations.) But the jewel in our crown in service to our community is our Teacher Grant Program. And Rohrman Subaru has contributed greatly to our success. Janie Norman LBOC Secretary Fat Tuesday Sponsorship Chair
---
Bob Rohrman Subaru helps protect natural areas. - Julie R
Once again, Bob Rohrman Subaru partnered with NICHES Land Trust to help protect and restore local natural areas for the benefit of wildlife and the enjoyment of the community. NICHES Land Trust manages over 3,600 acres which are open to the public free of charge. Support from Bob Rohrman Subaru has helped us maintain our trail system and water access points while also helping us complete projects to restore native habitat. This restoration work has been key in providing space for native species, including several which are rare and endangered, to thrive. By helping NICHES maintain our trails and water access points, Bob Rohrman Subaru provides opportunities for our community members to experience these special spaces. This year, we have seen increasing numbers of individuals utilizing our spaces for recreational purposes and we are so grateful to Bob Rohrman Subaru for their help in making sure we can continue to provide these opportunities for our community members.
---
Dakota Mathias Basketball Camp - Dakota M
Dakota Mathias Basketball camp is a youth camp for any boy or girl entering grades k-8. This is the 3rd year of camp and we are proud to have had Bob Rohrman Subaru sponsor camp again this summer! We had over 100 kids come this year in Lafayette and spent hours improving their basketball skills and knowledge and most importantly, having fun!! We emphasized the basic skills of basketball at the camp: shooting, defense, ball handling, and passing. Most importantly, we wanted to reiterate to the youth about being good listeners, having a positive attitude, and being a great teammate! The funds from the Bob Rohrman Subaru sponsorship allowed over 10 kids to come to camp free of charge from various organizations (Big Brothers Big Sisters, Boys and Girls Club of Lafayette, etc) who wanted to come and enjoy the game of basketball and have fun for a few days! We are extremely grateful for their support and helping us to have a high-level camp and bring as many kids as we can into the gym to have some fun and learn the game of basketball! Thank you!!
---
Helping Kids by Giving Back - Mary Jo V
Bob Rohrman Subaru contributes to the Greater Lafayette communities through its Corporate Sponsorship with the Lafayette Kiwanis Club. With the help of Bob Rohrman Subaru and the Kiwanis Youth Services Committee and the City of Lafayette Parks Department, the new Harmony Park at Armstrong Park became a reality. This park is unique and provides a vision for growth much like the Subaru vision. This project provides an opportunity for children of all ages and abilities to express themselves and grow. With families in mind, Bob Rohrman Subaru also contributed to the West Lafayette Cumberland Park. Bob Rohrman Subaru is helping kids by giving back.Thank you for your continued support for our kids.
---
8 Years and Counting! - Wayne H
For the 8th consecutive year, Bob Rohrman Subaru partnered with Meals on Wheels Greater Lafayette to promote Subaru's annual Share the Love event. They arrived at our office in 7 brand new Subarus to deliver all of our routes for us. We then partnered each of the Rohrman Subaru staff with one of our volunteers. Together they shared the love throughout the Lafayette and West Lafayette area by not only delivering the meals, but by also providing each of our consumers with a gift, courtesy of Rohrman Subaru! Meals on Wheels Greater Lafayette is proud to partner with Bob Rohrman Subaru to serve our community and "Share the Love" each year. It is no surprise to us as to why Rohrman Subaru received the well deserved Subaru Love Promise Community Commitment Award! That being said, we cannot thank Mr. Rohrman, the Rohrman Subaru staff and Subaru of America enough for their continued support of our program and mission, as well as their commitment to the Subaru Love Promise! #SharetheLove #MealsonWheels
---
Earhart Elementary - Ryan H
Third and fourth grade students were presented with a variety of nonfiction reading material for the kids to take home. We had tons of titles for the kids to choose from with a variety of topics. The kids were so engaged in their new books and loved that they got to keep them and show them off to their family and friends!
---
Driving Force of Support for Grant's House - Maggie Jae B
GRANT'S HOUSE opened it's doors and drew the fortunate Bob Rohrman Subaru Grant's House Car Giveaway Winner on August 18, 2019! Wabash Center's GRANT'S HOUSE has been made possible for youth and young adult's with developmental and intellectual disabilities because of the overwhelming support of community. Thanks to Bob Rohrman Subaru of Lafayette, Grant's House was gifted a brand new Bob Rohrman Subaru Outback Limited Edition to raffle off in support of those we serve. Thanks to Bob Rohrman Subaru and Subaru of America for assisting in spreading awareness for our goals at Grant's House. The Bob Rohrman Subaru Grant's House Car Giveaway gave us the chance to provide a loyal and dependable vehicle to someone who we were able to share our story with. Grant's House facilities after school and summer programming under Wabash Center's Youth Services Department. We are able to provide goal driven possibilities for the children and young adults seeking greater self-independence, acceptance, and opportunity. Thousands of raffle tickets sold and one lucky car raffle winner have helped to drive our next big Grant's House goals. We are grateful to be apart of the Subaru of America Family. #54
---
Subaru Loves to Care - Holly D
On Monday July 22, The Leukemia & Lymphoma Society, Indiana Chapter and Bob Rohrman Subaru had the pleasure of delivering 80 blankets to Franciscan Health Lafayette East as part of the Subaru Loves To Care program. These comforting gifts were accompanied by personalized messages of hope written by the customers and staff of Bob Rohrman Subaru.This incredible act of generosity was warmly received by the Franciscan Health staff who were thrilled to distribute these comforting gifts to their patients. Bob Rohrman Subaru also got the privilege to hand out a few of these lovely blankets to a few patients undergoing treatment. They seemed genuinely enthused and appreciative of this thoughtful gesture by Bob Rohrman Subaru. Many thanks to everyone at Bob Rohrman Subaru and Franciscan Health, not only for a memorable day, but for supporting LLS's mission to cure blood cancers and improve the quality of life of patients and their families.
---
Getting out of our Comfort Zones - Dan F
Our drama/ theatre and Triple Play programs revolve around getting kids out of their "comfort zones" It is a 2 part program. Part one involves physical activity, high yield learning activities, and overall fitness. We get kids up, out, and away from screens. We focus on keeping fresh ideas, games and equipment in the Club.Part two is a drama/theater program. We get the kids up in front of Club staff, their peers, and community members. They perform 2-3 "shows" a year that mostly revolve around public service announcements. When kids see kids giving out health/safety info, they are more apt to hang on to the ideas. We teach these kids life skills of public speaking and confidence as well spreading a good message throughout the community. Our topic this year is combating the opioid crisis in our county. Without the support of Bob Rohrman Subaru, these programs wouldn't be possible. Thank you!
---
Protecting, Restoring & Sustaining Natural Areas - Julie R
The support NICHES Land Trust receives from Bob Rohrman Subaru means our organization can continue to protect, restore, and sustain our local natural areas not only for the benefit of the plants and animals that live there but our community members as well. NICHES properties are free and open to the public for recreational purposes, so Bob Rohrman Subaru helps make sure our over 3,600 acres of natural areas are protected and accessible today and for generations to come. Funds help our stewardship and outreach efforts including our fire program, removal of invasive species, the reintroduction of native plants, and educational opportunities for community members, especially youth.
---
Rohrman Subaru partnered with us against cancer! - Cheryl P
Bob Rohrman Subaru partnered with the Purdue Center for Cancer Research by sponsoring the Challenge 5K Run/Walk at Ross-Ade Stadium on April 13, 2019. Because of our wonderful sponsors, we are able to ensure that the donations for the 5K go 100% to life-saving cancer research at Purdue! This year's race included over 2,100 runners and walkers with one goal: let's cure cancer. Our race wouldn't be nearly as successful without the community-minded support of Bob Rohrman Subaru and we are ever grateful for everything they have done for us. The Challenge 5K has raised nearly 1M dollars for cancer research. Thank you so much for helping us #HammerDownCancer!
---
Sharing the Love With Meals on Wheels! - Wayne H
Every year, Bob Rohrman Subaru partners with Meals on Wheels Greater Lafayette to promote Subaru's annual Share the Love event. For our yearly Share the Love event at Meals on Wheels Greater Lafayette, Bob Rohrman Subaru staff shares their love for the Greater Lafayette community by delivering our meals in brand new Subaru Outbacks. In addition, Bob Rohrman Subaru also shares its love each year by purchasing up to a full month of meals for each consumer. Meals on Wheels Greater Lafayette is proud to partner with Bob Rohrman Subaru to serve our community. Without Bob Rohrman Subaru and their commitment to Subaru's love promise, our mission would not be possible! Thank you to each and every one of the staff at Bob Rohrman Subaru, Mr. Rohrman, and Subaru for your continued support of our program and mission each year!
---
Rohrman Subaru Still King of Mardi Gras - Janie N
For the last three years, Rohrman Subaru has been the King of Mardi Gras sponsor for the Lafayette Breakfast Optimist Club's Fat Tuesday Fundraiser for Teacher Grants, contributing a total of $15,000 to the program. For those three years, the club has awarded from $12-15,000 in grants to local teachers for programs and projects that they otherwise would not be able to fund. Rohrman Subaru's donations have accounted for approximately 1/3 of the amount awarded each year. The grants impact hundreds of children year after year as many of the grants provide for the ongoing use and teachers share their materials with other teachers. The grants cover a wide variety of programs and projects, most of which focus on literacy and STEM skills. Several have provided much-needed materials and programs to special needs students. Other grants have covered the arts. Grant applications are sent out August and are due in October. Grants are awarded in early December and grant winners are recognized at the Fat Tuesday event, which is held on Mardi Gras day. In June the grant winners present the results of their projects and programs to the club membership at the Wednesday morning meetings. It is always amazing to see what the teachers do with the funds that are awarded to them. Thanks to supporters like Rohrman Subaru, this program has grown from being able to award a few hundred dollars each year to be able to award several thousand each year. Still, we are only able to fund less than 50% of the requests that we receive. We hope to continue to grow the program with more support from the community.
---
Sharing warmth through blankets and arts kits - Alison S
Delivering beautiful blue and white plaid blankets, cute arts & crafts kits, and touching and personal cards to Franciscan Health Lafayette was a meaningful way to end the Subaru Loves to Care month of June for leaders from Bob Rohrman Subaru and The Leukemia & Lymphoma Society. Brad Belaire and Terran Patton were welcomed to Franciscan's new cancer center for delivery and unloading of their gifts. Franciscan Health staff shared how much the patients have loved these gifts from Subaru in the past. They don't have many pediatric oncology patients, so they have been giving the arts & crafts kits to young kids who are visiting loved ones in the hospital: "they REALLY enjoy these kits!" The blankets and kits will be distributed through the hospital as well as several outpatient centers in the western central region of Indiana. Afterwards, Franciscan Health oncology staff gave Subaru and LLS a tour of the beautiful and light-filled new cancer wing. Thank you to Bob Rohrman Subaru for literally bringing warmth to local cancer patients with these blankets, and for bringing love and care through cards and craft kits!
---
Junior Achievement serving Greater Lafayette - Sarah F
With the commitment of educators, volunteers, and community partners such as Bob Rohrman Subaru, more than 10,782 young people in the Greater Lafayette area are envisioning the possibilities of what they can be as they build economic knowledge and financial literacy skills. Junior Achievement of Greater Lafayette educates students about financial literacy, work readiness, and entrepreneurship through volunteer-led programs. The Bob Rohrman Subaru team has been supporting Junior Achievement for two years as the Trail Sponsor for the annual Tippy Mud Run. With Junior Achievement's capstone facility expansion, Bob Rohrman Subaru will be the Transportation Storefront in JA BizTown and JA Finance Park.JA BizTown engages students in the role of workers and consumers in a series ofclassroom lessons that culminates in a day-long visit to JA BizTown, a fully-interactive simulated town. The JA Finance Park experience provides information and resources to engage middle and high school students in exploring and developing personal financial literacy and money management skills. With the help of Bob Rohrman Subaru, Junior Achievement of Greater Lafayette is able to empower young people to own their future economic success and provide experiential learning opportunities to students in our community.Thank you, Bob Rohrman Subaru!
---
Saving lives 4 Paws at a time! - Sandy f
Every animal deserves to be saved, loved, and given a second chance at a new beginning in a forever home. However, without the support of fellow animal loving individuals and corporations who believe in our mission of saving homeless pets, none of our efforts would be possible. From all of us at Loving Heart Animal Shelter, both two and four-legged, we extend a HUGE thank you to Bob Rohrman Subaru for all they have done for us! Bob Rohrman Subaru has been supporting the efforts of Loving Heart even before we began renting our current facility in 2015. Because of their generosity and selflessness, we have been able to save more lives than ever and continue to push through even in the tough times. Recently, we received a grant from their annual Share the Love event, enabling us to provide one of our adoptable dogs (Frankie) with a surgery that has made him much happier and healthier. However, the positive impact from Bob Rohrman Subaru doesn't end there. Other events during the year not only help us financially, but our adoptables also receive more community exposure, and a greater number of people can learn about who we are and what we do.Only as a community can we continue making a difference in the lives of companion animals. Only together can we continue Saving Lives 4 Paws at a Time. And with the continued support of businesses like Bob Rohrman Subaru, we can continue making this mission a reality for countless more pets in need of our help.To many more successful stories!
---
Making Strides of Lafayette - Lauren N
Bob Rohrman Subaru has been an amazing partner and flagship sponsor of our Making Strides Against Breast Cancer of Lafayette event for the past few years. Thanks to their support we are able to provide many mission programs in the Lafayette community including; free rides to treatment, mentors for those going through treatment, free workshops for women facing the appearance-related side effects of cancer through our partnership with Look Good Feel Better, a 1-800 number that is 24/7/365, as well as cancer research specifically at Purdue University, just to name a few. We are so incredibly thankful for all they do for Making Strides Against Breast Cancer in the Lafayette community and look forward to many more years of partnering together in the fight against breast cancer.
---
Rohrman Subaru loves Boys & Girls Club - Craig R
The Boys & Girls Club of Montgomery County has been serving children in Montgomery County for over 60 years. Last year, our Club served a record 7650 kids. The Bob Rohrman Subaru team has been supporting our Club for over 5 years. We can't thank Brad Belaire and his team enough for the love you have shown our children. Because of Bob Rohrman Subaru's generosity, our club is able to provide our programs and services to kids who might not otherwise be able to receive them. Their commitment to our communities is second to none and we can't honestly thank them enough for their kindness and generosity. We are so blessed that Bob and his team are committed to the communities they live in. Thank you again Bob Rohrman Subaru!!
---
Subaru CASA Cycling Challenge - Patti O
Thank you to Brad Belaire of Bob Rohrman Subaru for sponsoring the Subaru CASA Cycling Challenge and making a difference for vulnerable children in our community! Court Appointed Special Advocates (CASA) are volunteers who are appointed by the court to speak up for abused and neglected children. These are kids thrust into the court system through no fault of their own and the CASA represents the best interest of the child. Every child deserves a safe, permanent home and the opportunity to reach their full potential in life. The CASA makes recommendations on placement & services and follows the case until it is permanently resolved. The CASAs for Kids Fund supports the Tippecanoe CASA program and the children they serve. CASAs provide an invaluable service speaking up for abused and neglected children. But sometimes these kids need more than a voice – sometimes they need goods or services that are outside the realm of the Department of Child Services. They may need something to spark their educational or psychological growth and development. They may need special help to build the self-esteem and confidence required of children in these circumstances. The CASAs for Kids Fund was created to meet this need. Our major fundraiser to accomplish this is the Subaru CASA Cycling Challenge which takes place each year in August at the SIA Test Track. It is a great community event which allows bicycle riders to test their endurance while helping abused and neglected children. By sponsoring the Subaru CASA Cycling Challenge, Bob Rohrman Subaru shows that they care about children in our community!
---
Subaru and LLS Love to Care! - Alison S
Delivering beautiful dark blue blankets, cute arts & crafts kits, and touching and personal cards to patients undergoing cancer treatment at Franciscan Health was a wonderful finale of this year's Subaru Loves to Care program with Bob Rohrman Subaru of Lafayette and The Leukemia & Lymphoma Society. The gifts were immediately put to use, as one of the oncology nurses shared later that day: "Thank you so much for helping get the blankets today. I have been passing them out and patients were very appreciative. I took the craft boxes to [pediatrics] and one patient was so very excited to start creating a masterpiece." Thank you to Bob Rohrman Subaru of Lafayette – and especially to Liz and Brad – for literally bringing warmth to cancer patients at IU Simon with these blankets, and for bringing love and care through cards and craft kits! We are honored to partner with you to bring light to a time that can be full of darkness.
---
Subaru and NWF Love the Earth! - Zonda B
Thank you for your donation to one of the schools I have been working with. We have started our garden and you can see more on our Facebook page https://www.facebook.com/handsofthefuture/?hc_ref=PAGES_TIMELINE&fref=nf
---
First subaru - Stephen B
This past August we purchased our first Subaru, a 2017 crystal white pearl WRX. The car is everything that we could have dreamed of. I have so much fun driving it and it is very economical which you don't find in many cars. We got it from Bob Rohrman Subaru in Lafayette, Indiana. The sales staff there is great, friendly, and very helpful. We went in with a print out from the internet showing what vehicle we wanted with the desired options. They got us the exact car and didn't try to sell us something we didn't want. This was probably my best experience with an auto dealership I have ever had.
---
Sharing the Love and Saving Paws! - Kati D
We are so grateful at Loving Heart Animal Shelter for Bob Rohrman Subaru. We had reached out to Mr. VanScoyoc four years ago I believe and have been blessed by this group of people every year since. They continuously support our endeavors and we are forever grateful. This group of people are fabulous at what they do and have such huge hearts. We have an annual Dog Walk at the local Subaru Plant and they have been a top sponsor every year since the beginning. We have held adoption events and kick off and close out parties for the Share the Love Event which we have been so graciously chosen for these last two years. Because of Bob Rohrman Subaru and their people we have been able to accomplish so much that may not have been possible. We secured a physical location finally in 2015 and are able to help even more animals in and around our community. With the help of this fantastic group of people we are able to get animals adopted into loving permanent homes, gain exposure for our organization, obtain much needed funds for our animals and build relationships that will last a lifetime. Thank you BOB ROHRMAN SUBARU!
---
YWCA Domestic Violence Shelter Kids - Debi D
The YWCA of Greater Lafayette has been sheltering women and children in our community since 1979. Every year we learn more about the needs of our community and the needs of domestic violence survivors. The children in the shelter and the impact of violence in their former homes make the work we do critical to ensuring we end the cycle of abuse. We have a unique opportunity to provide a safe, welcoming and positive environment for those who may never have that experience. In 2014, we set upon a campaign to challenge our community to do better for those living in our shelter. We approached Subaru with our plans to expand our shelter to include 6,000 extra square feet , which would for the first time offer children a quiet place to do homework and have a recreation room to play freely. Additionally, the outside playground would provide children a space to truly have a childhood and the freedom of being outside while still being protected. Subaru wholeheartedly accepted this challenge and provided us with not only the dollars for the playground, but also the blueprints that helped us to imagine this new reality. We were astonished by the generosity, passion and imagination that went into the project. The newly renovated shelter will be complete by 2016 and we can't wait to share with the over 200 children every year who will benefit from this magnificent gift. Thank you Subaru for showing our community what caring leadership looks like!
---
Bob Rohrman Loves to Help - Anne B
Bob Rohrman Subaru in Lafayette, Indiana has been a great supporter of Meals of Wheels of Tippecanoe County. In June, they hosted a Stuff the Subaru campaign where they invited community members to donate shelf stable food and cleaning items at their dealership. They collected an amazing amount of items which they donated to Meals on Wheels. We will use these items to support our "food insecure" clients who need extra help to get by. MOW is so appreciative of the efforts of Bob Rohrman Subaru to support our clients! They make our community a great place to live and work!
---
Bob Rohrman Subaru Love Promise | 2015 - Connie A
On June 15, Bob Rohrman Subaru & K105 Held The 2015 Subaru 2 Year Lease Giveaway At The SIA Recreation Center. 96 "Keyholders" Showed Up For A Chance To Win. Congratulations To Connie Anthrop Of Lafayette For Being The 2015 Winner!
---
Loving Heart Animal Shelter - Rolyce S
We at Bob Rohrman Subaru are excited to announce that our Share the Love event this winter ultimately raised a total of $20,822 for Loving Heart Animal Shelter!! Currently the shelter depends on foster families to support the shelter and take on the animals brought to them due to limitations on space. The Loving Heart Animal Shelter plans on using the funds to building a new facility in Lafayette and promote proper animal care throughout the county.
---