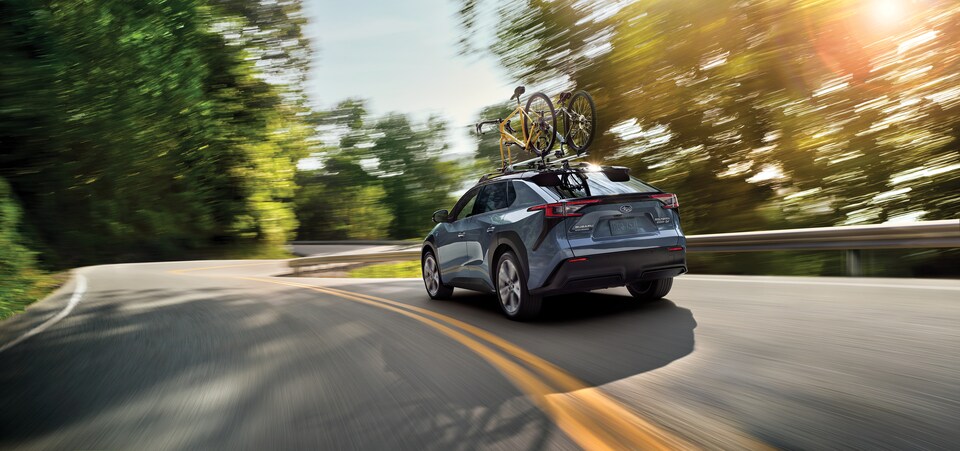 Buy or Lease the

New 2023 Subaru Solterra

Electric Vehicle in Lafayette, Indiana
New 2023 Subaru Solterra EVs For Sale in Lafayette, IN
As a brand, Subaru has entered the electric-vehicle segment with a reverberating punch.
Given the inherent characteristics and attributes to every Subaru model, the first-ever, 2023 Subaru Solterra all-electric SUV is set to make its debut near Lafayette, IN.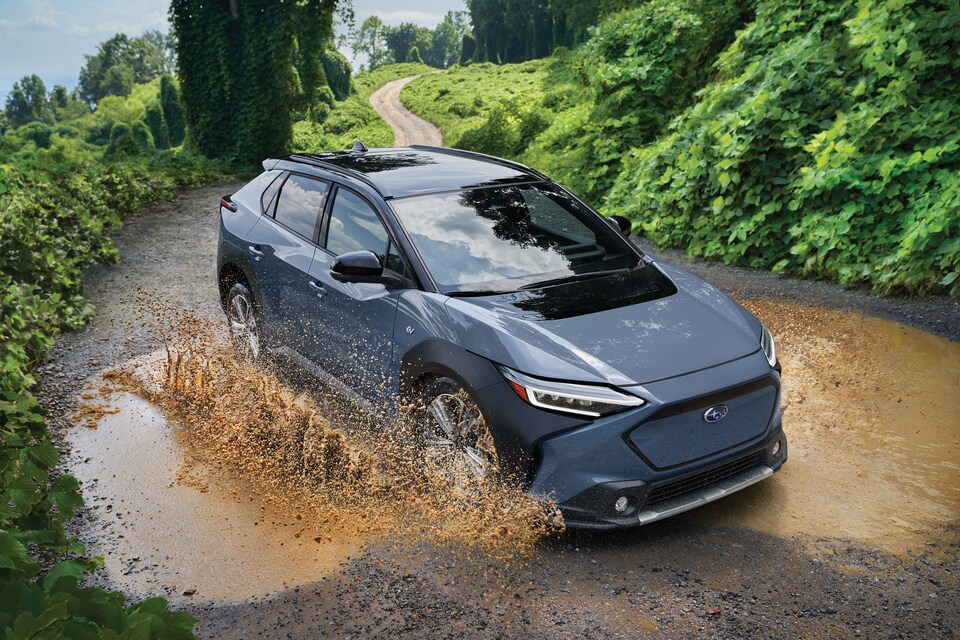 2023 Subaru Solterra - Classic Performance Values Included
Clients in Lafayette have come to know the Subaru brand as offering a certain slate of performance values and other dedicated features. So, it's no surprise Subaru Solterra will represent the cutting edge of branded innovation and progressiveness.
Systems such as Symmetrical All-Wheel Drive with adjoining X-MODE drive settings enhance traction and handling alike. There's also that co-pilot feel to standard, EyeSight Driver Assist technology.
In any event, Subaru Solterra is a fully sustainable platform upon which to explore or simply run errands throughout Lafayette. All that's required is a plugged-in charge.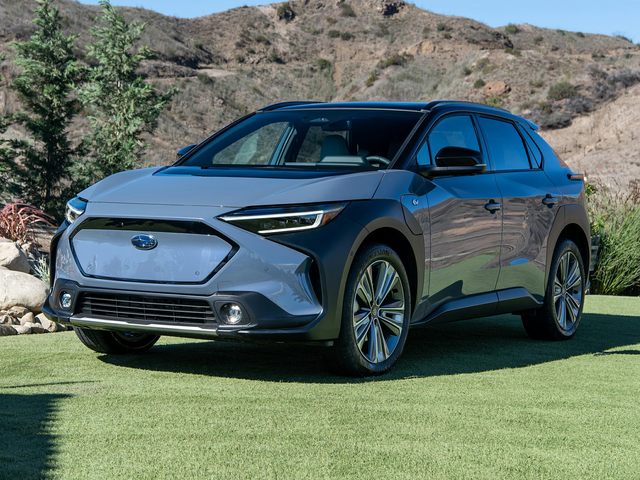 Charging and Range
The process to charge Subaru Solterra is quite simple.
Actually, that 120V wall outlet within your garage will do the trick overnight. And when morning arrives, you'll have a range reaching up to 220-miles to enjoy - all fuel free.
The following features to charging may also be explored:
A dedicated, home-charging unit offering Level 2 - 240V capacity may be installed for even faster charging times.
While on-the-go, you're provided access to 46,000 public-charging stations within the EVgo® network. Clients may qualify for a $400 charge credit for use.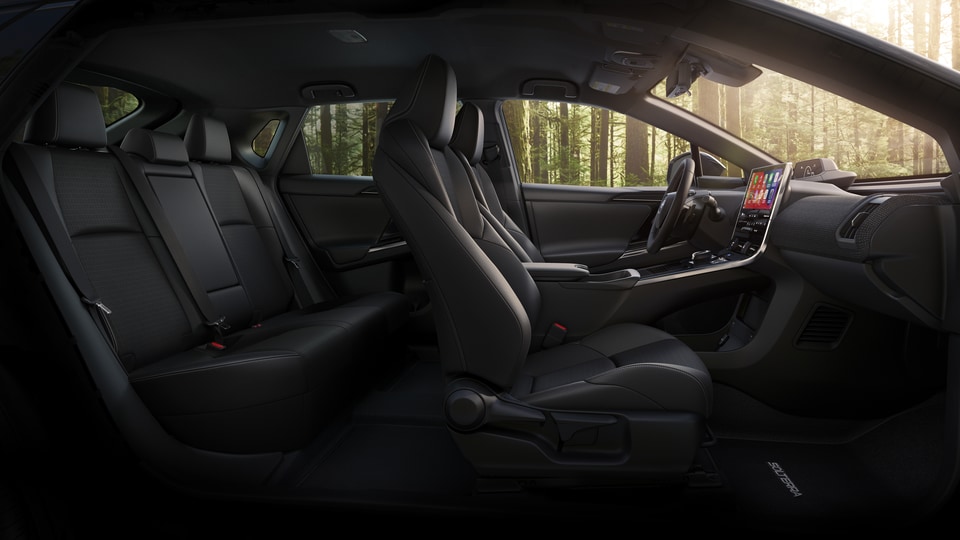 Safety Features to Subaru Solterra
Subaru often speaks of the Love Promise - a branded mission to share the joy of travel and safety inherent.
Consequently, certain safety systems and parameters are in-place and embedded for an optimal degree of driving confidence. Nothing is taken for granted when considering the well-being of occupants.
The new Subaru Solterra comes with an impressive suite of standard safety features, suck as:
The e-Subaru Global Platform is the rigid architecture upon which Solterra has been laid. Featuring crumple zones and reinforced framing, there's a cocooning element to the cabin in the event of a collision.
Driver assistance functions are based in EyeSight Driver Assist technology, which monitors the road with a dedicated camera system that helps implement lane-keep assistance, optimized cruise control & more.
Surround-view camera lends a 360-degree vantage when parking and reversing in congested parking lots.
The above merely represents a sampling of safety features to Subaru Solterra, contact our sales team if you'd like more information or to take a test drive of a new Subaru equipped with Subaru Eyesight tech.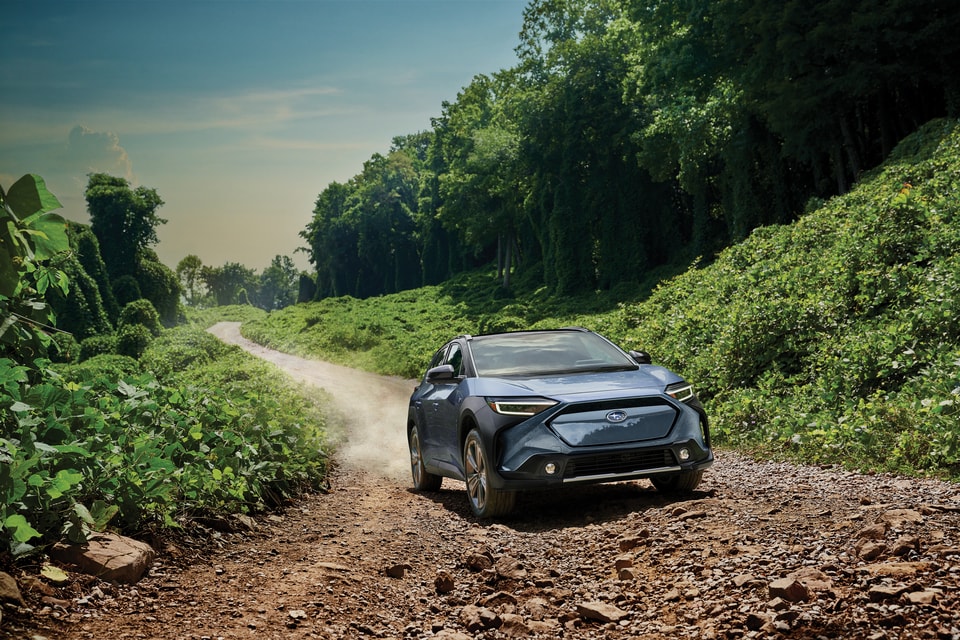 Subaru Solterra Trim Levels Offered
There are three equipment levels to the new Subaru Solterra.
Included with each trim level variation are unique features, from a robust entry level offering to higher end luxury appointments available. As a matter of fact, both middle and upper trims incorporate elements to the variation before. This provides a holistic approach to customizing your ride.
Solterra Premium
As the more basic, entry-level trim of the Solterra, standard equipment still features impressive tech standard. Solterra Premium EVs are equipped with Symmetrical All-Wheel Drive, EyeSight driver assistance and 8.3-inches of ground clearance. There's also automatic climate control and blind-spot monitoring.
Solterra Limited
The Subaru Solterra Limited welcomes Premium equipment and adds its own flourishes. This well-equipped Solterra package is ready to help you make the most of both your commute as well as weekend trips beyond Lafayette.
The Solterra Limited features everything from 20-inch alloy wheels and LED fog lights to Harman Kardon sound and wireless smartphone integration.
Solterra Touring
Accepting all the equipment offered by the previous trims, the new Solterra Touring is your complete package. Inching its way towards refined luxury, the Touring package sets itself apart with a glass roof with retractable sunshade, ventilated front seats and interior illuminated trim.
Order Your Subaru Solterra EV with Bob Rohrman Subaru of Lafayette
Contact us to learn more about Subaru Solterra and how to order your all-electric crossover today.